At the Hall of Leadership Luncheon at Spring All State, the Minnesota Jaycees Charitable Foundation had the privilege to induct two new honorees into the Hall of Leadership!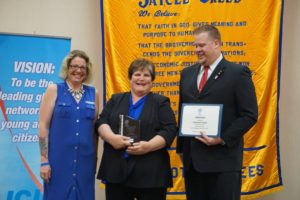 The first honoree began her life as a Jaycee kid, watching her parents work on projects to improve the community and the whole time wishing she could be that person. After pushing her husband to join the all-men club and helping from the sidelines, her drive to become a Jaycee was finally achieved in 1984 when women were allowed to join. She then spent six wonderful years in the Jaycees culminating her career as President of South St Paul Jaycees. Although her official Jaycee career may have been short and her top recognition was a Presidential Medallion, her passion along with the skills she gained from the organization served her well into her post-Jaycee career. From raising almost a quarter-million dollars while chairing the Archdiocesan Stewardship program to serving as the Service Manager for over 20 Girl Scout, she constantly strivies to improve the world she lives in. And even during her Jaycee Retirement, she stays connected with her chapter and has helped them win the World Championship Booya Cook-Off! Twice! Please welcome with me, the driving force behind South St Paul being recognized with the All American City Award, the woman who continues to follow the mantra that "Service to humanity is the BEST work of life," LouAnn Goosens!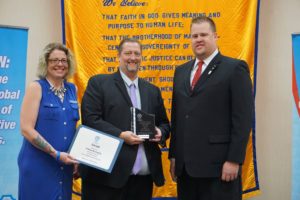 The other honoree joined the South Dakota Jaycees just before moving to Minnesota. He then continued his affiliation with the Jaycees by joining the Hopkins Jaycees to quote, "meet and get to know other people". During his extensive Jaycee career, he did indeed meet and get to know a lot of people, including his spouse Laura. But his involvement spanned much more than increasing his social circle, it truly made a profound impact on his life. By working on and chairing a huge variety of projects, he truly experienced "individual development through community service" leading him to open his own business. Although he has achieved the mandatory Jaycee retirement age, his impact on the community has not ended, as he continues to serve in various ways including as a City Council Member. Please welcome with me, Statesman #1299, Ambassador #3957, JCI Senator #67854, 2006 recipient of the Ten Outstanding Young Minnesotans Award, and the 78th President of the Minnesota Jaycees, Jason Gadd!
We also had the opportunity to hand out a couple of grants.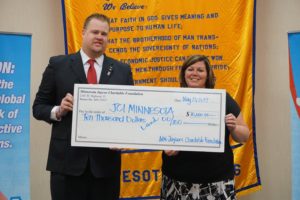 We pledged our support to JCI Minnesota to the tune of $10,000!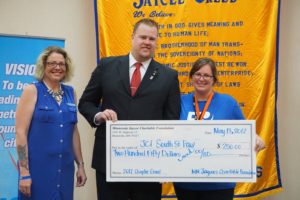 We also handed out one Chapter Grant. The project the receiving chapter is doing holds a very special place in the hearts of our trustees. To introduce the project, let me take you on a little journey. In 1800, the Library of Congress was established to serve the reference needs of Congress with 6,487 books. Since then, it has grown to over 16 million books and over 120 million other items that depict or store written communication. With that many choices, choosing something to read can be a daunting experience. In addition, the library has very strict hours of operation. In 2009, Todd Bol of Hudson Wisconsin changed the entire concept by building a small replica of a little red schoolhouse, filling it with books and placing it on a post in his yard. Acting as a free book exchange with the phrase "take a book, return a book", the Little Free Library was born. In just 3 years, the number of Little Free Libraries grew to over 4,000 and they became a 501-(c)(3) organization. As of November 2016, that number has grown to over 50,000 registered units world-wide. Millions of books each year are exchanged allowing easier access to the printed word. And that brings us to one Little Free Library in South St Paul that is need of repair. To help cover the repair costs, the Foundation is proud to present JCI South St Paul with a grant of $250. This is more than they asked for, and all we ask is that they consider increasing the number of Little Free Libraries by building and stocking another one in the community.
As individuals and chapters continue to support the Minnesota Jaycees Charitable Foundation through tax-deductible donations, we have the opportunity to recognize them upon achieving certain donation plateaus. For a breakdown of the recognition categories, peruse the Donor Recognition Page.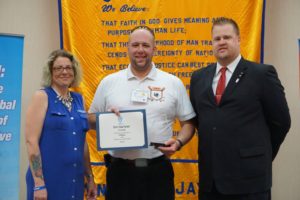 We were privileged to recognize JCI Lake Elmo for total donations exceeding $100,000 with the Silver Vision Partner!
We also sponsored "How Many Kisses?", and the winner was…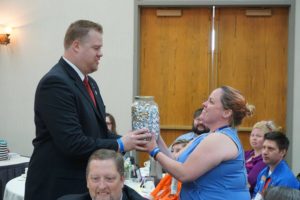 Melissa Anderson! Her guess of 500 was closest to the 504 kisses in the jar!
And finally, we held our annual fundraiser/pledge drive. This year, the event was themed "The Newlywed Game"!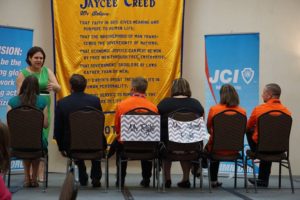 So…Let's begin!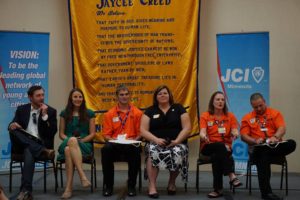 Here are our three couples competing for fame and glory!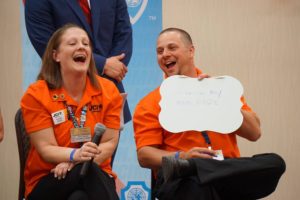 Brad and Eva!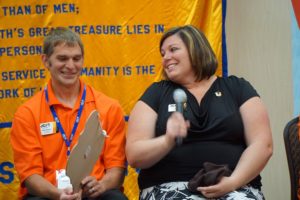 Brian and Amie!


Tad and Mary!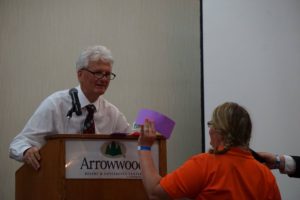 Throughout the event, people made donations and pledges…


To add some excitement to the game!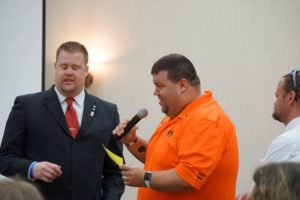 And helping the Minnesota Jaycees Charitable Foundation support JCI Minnesota and the local chapters!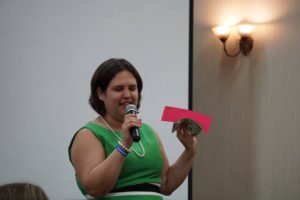 Everyone had a blast!